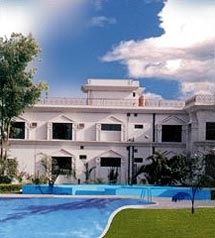 The Lahore Country Club in Muridke
The US National Intelligence Director has taken the unusual step of placing blame in public: AP
The same group that carried out last week's attack is believed to be behind the 2006 Mumbai train bombings that killed more than 200, National Intelligence Director Mike McConnell said Tuesday during a speech at Harvard University.

McConnell did not identify the group by name. However, the Indian government has attributed the 2006 attack to Lashkar-e-Taiba, a Pakistani terrorist group based in Kashmir, and the Students Islamic Movement of India.
Hard to know how to evaluate this information. The Bush Administration just isn't that credible after the epic failure of intelligence on WMD in Iraq. They could be right this time: the boy who cried wolf was right one time too. Whether or not the LeT are behind this particular attack, it has already been designated a terrorist organization based on its previous record.
At first one may think that the LeT is a secretive organization, operating out of some cave in the mountains. Nothing could be farther from the truth. Although it is banned, the LeT actually operates freely in Pakistan: it just changed its name. It runs schools, hospitals and provides social services. Its headquarters is in Muridke: a suburb of Lahore, Pakistan's second largest city.They even have a website in English. and in Urdu ( the national language of Pakistan.)
The English site is all about collecting donations for its charity work, with some diatribes against India thrown in. The Urdu site (I don't know Urdu) is apparently full of hate speech against US as well. This is the face of modern terrorism.
Its original name means "Army of the Pure"; its new name Jama'at-ud-Da'wah (JuD) means "Assembly of the Faithful".
Muridke is located on the Lahore-Islamabad Highway, 20 miles North of Lahore at 31 deg 45 min 35 secs N 73 deg 50 min 16 sec E. It appears to be nice little town: there is a girls high school, a live-stock market, a boys high school named for Jinnah ( the founder of Pakistan), a cemetery. Link to Wikimapia. There is a large maidan or parade ground. Several places where boys an play cricket.
If you are thinking of visiting, there is an excellent place to stay: the Lahore country club.
Lahore Country Club, is situated 17 miles north of Lahore, 10 minutes drive from Lahore-Islamabad motorway and offers very clean and pollution free environments. The facilities include, Conference centre, Badminton & Tennis courts, Private Villas, Health Club, Outdoor Cinema, Jogging tracks, Boating, Fishing, Cycling and Swimming Pools, cricket grounds and more. FREE CHAUFFER DRIVEN CAR FOR GUESTS STOPPING FOR SEVEN AND MORE NIGHTS*
The club is also famous for its cricket grounds.
This bucolic town is where Hafiz Mohammad Saeed, the founder of LeT set up his religious foundation and school complex.
The News
Established in 1988, the Dawah headquarters are called Markaz-e-Taiba (Holy centre), which is run by the Markaz Al-Dawah Wal Irshad (Centre for Religious Learning and Propagation). Spread over 200 acres of land the sprawling Dawah complex houses both teaching and residential facilities complete with its own farms, mosques, fish-breeding ponds and stables. Over 3,000 male and female students are presently enrolled at the Muridke complex, which are imparted Islamic as well as modern education from primary to university level.The Muridke complex is also not just restricted to the Markaz Dawah Wal Irshad. Around the complex, the Dawah has bought land for supporters, who have built houses, shops and mosques and centres of Islamic learning.
A nice little community. The fish-breeding pond especially is such a nice, ecologically correct, touch. There is an important difference compared to the kind of college campus you are familiar with though: no music allowed.
The complex has its own strict Islamic rules that ban music, television and smoking on its heavily guarded premises. Not even passing vehicles are allowed to play music which Prof Saeed believes is strictly forbidden in Islam.
The other difference is that they train terrorists there.
MSNBC has been there:
The grounds of this madrassa looks much like the campus of any exclusive boys boarding school – except for the bearded armed guards sporting Kalashnikovs checking all those who come and go. There is a cricket field, swimming pool, all sorts of sport activities, and horses too. In addition to religious instruction, the school offers computer sciences, engineering and pre-med classes for students ranging in age from six to 17.

It also offers jihad.

"We read about jihad in books and wanted to join," said Ahmad. "We wanted to go to the Muridke madrassa so we would have a better life in the hereafter."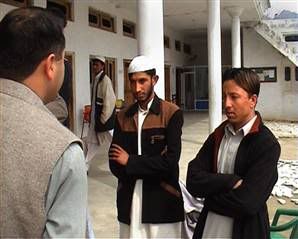 The Jihad Academy in Muridke